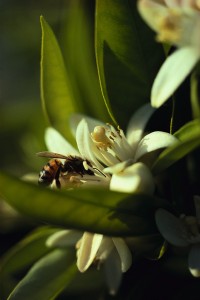 The myriad of insects and other critters that are helpful to the gardener often outnumber those that cause all the problems. But you need to know the good guys from the bad guys. Learn about the many insects that pollinate your crops and those that keep the pests at bay. Learn too how to make your garden a welcoming habitat for garden allies. Gail will also cover purchase and release of beneficial insects.
The speaker is Gail Gredler, horticulture Instructor at Chemeketa Community College, where she teaches integrated pest management, soils, plant propagation, and nursery and greenhouse production. Gail also spent seven years as an OSU Extension Agent with the OSU Master Gardener program and four years as education director with the Oregon Garden. She is an avid home gardener who loves to watch the bugs in her garden.
When: Tuesday, March 13th, 7pm
Where: Mt. Tabor Presbyterian Church, 5441 SE Belmont St., Portland
Cost: Free. 
Who: Everyone is welcome!
Presented by the Multnomah County Chapter of the Oregon Master Gardeners Association.