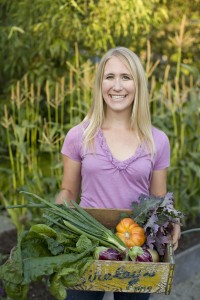 Juicy strawberries glistening with morning dew; plump pea pods dangling like earrings from their vines; freshly sliced tomatoes still warm from the afternoon sun—kitchen gardeners have access to some seriously amazing food. In this photo-filled lecture, Willi will explore the diversity of food in our gardens. Many crops can be eaten at more than one stage of growth or have several edible parts, including fruit, roots, leaves, flower buds, and seed pods. You'll learn how to harvest crops like garlic scapes and green coriander, learn about the best vegetable varieties for the Pacific Northwest and how to create a succession planting plan that will allow you to keep your garden productive all year long. 
Willi Galloway is an award winning writer and radio commentator and author of the new book, Grow Cook Eat: A Food-Lover's Guide to Vegetable Gardening, Including 50 Recipes, Plus Harvesting & Storage Tips.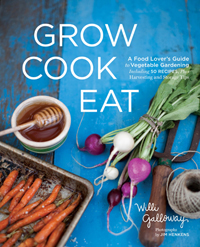 A gorgeous garden-to-table handbook, Grow Cook Eat, fills in the blanks between growing food in the garden and using it in the kitchen. With 50 guides to the best-loved vegetables, herbs, and small fruits, Willi offers easy-to-follow planting and growing advice and specific instructions for harvesting and storing all the edible parts of the plant, including uncommon but delicious extras like pea shoots and arugula blossoms. Each guide concludes with a simple recipe that celebrates the flavor of fresh food.
Copies of Grow Cook Eat will be available for purchase and signing prior to Willi's talk at 6:30pm and following her presentation.
Willi writes about kitchen gardening and seasonal cooking on her popular blog, DigginFood and pens the weekly column, The Gardener, on Apartment Therapy's Re-Nest blog. Each Tuesday morning, Willi offers vegetable gardening advice on Seattle's popular NPR call-in show, Greendays. She also teaches a joint gardening and cooking class with chef Matthew Dillon at the Corson Building in Seattle and hosts an online garden to table cooking show, Grow. Cook. Eat., with her husband, Jon. Willi was the West Coast Editor of Organic Gardening magazine from 2003 to 2009.  In 2004, she earned her Master Gardener certification from WSU Extension. Willi lives and gardens right here in Portland, Oregon
Date: Tuesday, February 14th
Time: 6:30pm book sales and signing, 7pm presentation
Where: Mt. Tabor Presbyterian Church, 5441 SE Belmont St., Portland
Cost: Free. 
Who: Everyone is welcome!
Presented by the Multnomah County Chapter of the Oregon Master Gardeners Association.
Tags: Community, Events, Speaker Series
---