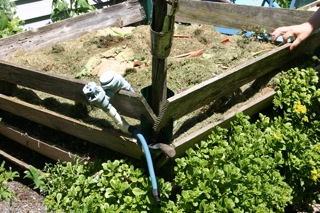 Get the dirt on basic and worm composting. Gather great tips on bin selection and set-up, maintenance, troubleshooting, harvesting and use. Learn how to prevent rodents, how to speed composting, and low-maintenance composting alternatives.
Carl Grimm grew up in the gardens of NW Portland Oregon and later Berkeley, California where he received a Bachelor of Science degree in Conservation and Resource Studies. Carl now serves as an associate planner at Metro, where he manages natural gardening programs and other initiatives aimed at reducing the home use and disposal of toxic materials.
When: Tuesday, September 14, 7pm
Where: Mt. Tabor Presbyterian Church, 5441 SE Belmont St., parking on 54th
Cost: Free!
Who: Everyone is welcome!
Presented by: Multnomah County Chapter of the Oregon Master Gardeners Association
Coming up, Tuesday, October 12:  Designing Great Small Conifers into Your Garden. Speakers: David Leckey, Oregon Small Trees Nursery & Anne Marsh, Marsh and Fear Garden Solutions. 
Tags: Chapter Meetings, Events, Speaker Series
---