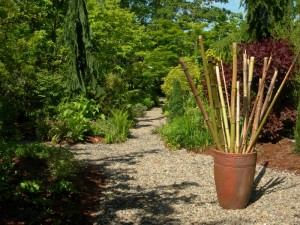 For most homeowners, shrubs are an essential part of the yard or garden
because they provide shade, flowers, and foliage from spring through fall.
Unfortunately, the choices available at many garden centers tend to be
predictable and often unsuited to the local climate and growing conditions.
It doesn't have to be that way. The superior plants available today can
transform ho-hum gardens into scenes of beauty and serenity. For decades,
the Gossler family has tested, propagated, and sold the very best hardy
shrubs from around the world. Nurseryman and author Roger Gossler will highlight characteristics and growing conditions for many beautiful, versatile and growable shrubs.
Roger Gossler grew up in Springfield, Oregon on the Gossler family farm, and is one of those rare individuals who knew his career from birth. He became interested in plants at an early age and quickly became a leader in promoting the use of woody trees and shrubs. Roger is currently the buyer and main grower for Gossler Farms Nursery. He avidly researches what is new in the trade and worthy of inclusion in the nursery's catalog.
Roger will have a beautiful selection of Gossler Farms plants for sale starting at 6:30pm prior to his presentation and also following his talk.
When: Tuesday, November 8th
              Plant Sale: 6:30pm
              Presentation: 7:00pm
Where: Mt. Tabor Presbyterian Church, 5441 SE Belmont St., parking on SE 54th Avenue, across from the church. Enter building on 54th
Cost: Free!
Who: Everyone is welcome!
Presented by: Multnomah County Chapter of the Oregon Master Gardeners Association