According to the United Nations Food and Agricultural Organization, crop genetic resources are disappearing at the rate of 1 to 2 percent a year. About 75 percent of agricultural crop diversity is estimated to have been lost since the beginning of the last century. What's more, seed knowledge is eroding even faster than seed biodiversity.
Here is where the home gardener can step into the important role as a Stewardship Super Hero. Not only can the home gardener save seeds to be more economical, and to grow varieties that grow well in gardener's home environment. But, the home gardener will be acting as a good steward in helping to preserve genetic diversity and heritage.
Saving seeds is easy, fun, and a profound act of social and environmental empowerment. Here in the Willamette Valley, fertile soils, mild winters, and dry summers combine to create some of the best conditions in the world for growing seeds.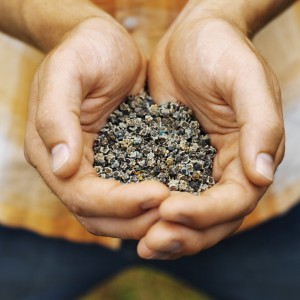 Sarah Kleeger and Andrew Still, seed stewards, from Adaptive Seeds will illustrate why saving seeds is so important, how to plan your garden for seed saving, and how to process the seeds you've grown.
Sarah Kleeger and Andrew Still began The Seed Ambassadors Project in 2006 when they traveled through northern and eastern Europe collecting and sharing open-pollinated seeds in places with climates similar to or harsher than those of the Pacific Northwest. In 2007 they began growing out many of the 800 varieties they collected on their travels, evaluating them for flavor and suitability for growing in the Willamette Valley. They started Adaptive Seeds in January 2009 to help some of these incredible varieties find their way into more gardens. Sarah and Andrew are the authors of A Guide to Seed Saving, Seed Stewardship, and Seed Sovereignty, a 'zine that is available free on their websites at www.seedambassadors.org and www.adaptiveseeds.com. Please join us.
When: Tuesday, March 8, 7pm
 
Where: Mt. Tabor Presbyterian Church, 5441 SE Belmont St., parking    on SE 54th Avenue, across from the church.  Enter building on 54th
Cost: Free!
Who: Everyone is welcome!
Presented by: Multnomah County Chapter of the Oregon Master Gardeners Association