Cooking from scratch is often seen as time consuming, complicated and just plain unrealistic for the busy lives we lead. Katherine Deumling (Cook with What You Have) sees it as a way to simplify and beautify your life – a creative, delicious and even meditative part of daily life. Cooking with our extraordinary local fruits and vegetables is a treat for the senses and our health and a real connection to our soil, climate and place.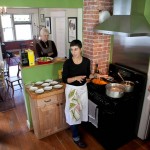 Join us on Tuesday, September 9th as Katherine offers guidance and inspiration on how to prepare the wonderful seasonal vegetables that you harvest from your garden, receive in your CSA box or pick up at your local market.
Katherine Deumling, a native Oregonian, owns Cook with What You Have – a small business devoted to making cooking with fresh produce a regular, delicious, and creative part of people's lives. She partners with area farmers markets to promote local produce and works with non-profits, public agencies, and businesses to empower people to create healthy, delicious meals.  She also works with local CSA Farms, creating weekly, customized recipes packets for CSA members.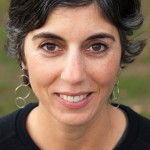 Katherine is a member of the Board of Directors of Slow Food USA. She previously served as a Slow Food chapter leader in Portland. Katherine is a Sister on the Planet Ambassador for Oxfam America. She was the recipient of a Thomas J. Watson Fellowship that allowed her to study food and culture in rural Mexico and Italy for a year in 1996. Katherine is active in the food community in Portland and speaks about Slow Food and it's work to help create vibrant food communities. Katherine is an avid gardener and particularly evangelical about having people plant herbs – one of the simplest, most delicious and inexpensive ways to improve your cooking!
Date: Tuesday,  September 9
Time: 7:00pm
Where: Mt. Tabor Presbyterian Church, 5441 SE Belmont Street, off street parking on SE 54th Avenue
Cost: Free
Who: Everyone is welcome!
Presented by the Multnomah County Chapter of the Oregon Master Gardeners Association
*Photos courtesy of Katherine Deumling
---