Speaker: Sherain A. Wright, amatuer naturalist and NW author
Date: Tuesday, February 11, 7pm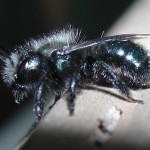 Photo courtesy of Sherian A. Wright
In the beginning…it was all about honeybees. Their precious honey has always been given high recognition. The honeybee is not native to our country but was brought to North America. With serious issues regarding the honeybee's decline, the mason bee is gaining in popularity, as another bee that serves as an early spring pollinator.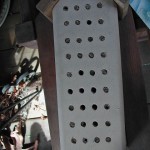 Photo courtesy of Sherian A. Wright
Mason bees are found all over the world, but the northwest has its own native – Osmia lignaria.  Join author, Sherian A. Wright; and learn how easy it is to set up a permanent habitat for this often-overlooked native bee. Know how to tell if an apple is fully pollinated. View movie clips of a male mason bee emerging from his cocoon, a mating frenzy, and the female using her butt to dig mud to make mud balls for her cell walls. Find out why she is known as a super pollinator. With minimal setup, you can become proactive in the preservation of this very important second-source pollinator.
Sherian Wright, is the author of "Mason Bees for the Backyard Gardener". Her past experience as a mechanical design engineer influenced her approach to studying and documenting mason bees for the past 10 years. Autographed copies of her book (published by Inkwater Press of Portland) will be available for sale after the lecture.
Date: Tuesday, February 11, 2014
Time: 7pm
Where: Mt. Tabor Presbyterian Church, 5441 SE Belmont Street, Portland
Cost: Free.
Who: Everyone is welcome! Presented by the Multnomah County Chapter of the Oregon Master Gardeners Association.