Multnomah County Master Gardeners
Upcoming Speakers and Events
Photographing Your Garden through New Eyes
Speaker: Mark Turner, photographer
Date: Tuesday, January 13, 2015
Time: 7:00pm
Location: Multnomah County Master Gardener Demonstration Garden (6801 SE 60th Avenue, Portland)
Gardeners use a palette of plants and hardscape elements to create works of art for their enjoyment or to share with friends, neighbors, or the public. In the process we develop a mental picture of what our gardens look like and sometimes miss other ways of seeing. Join us as freelance editorial photographer, Mark Turner shares his insights into garden photography, inspiring gardeners and garden lovers alike to see their gardens in new ways as they learn basic photographic techniques. Mark specializes in botanical subjects, especially Northwest gardens and wildflowers. He is the photographer of the award-winning Wildflowers of the Pacific Northwest.
---
Northwest Flower & Garden Show
Date: Wednesday, February 11, 2015 (opening day)
Location: Washington State Convention Center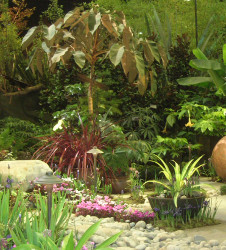 Don't miss one of the premier garden shows in the US. Take the bus to Seattle with fellow Multnomah County MGs and other garden enthusiasts for the opening day of this great event.
The display gardens are always amazing from the whimsical to the spectacular. This year you'll see 21 large landscapes full of flowers in bloom in the middle of winter. The Marketplace holds over 300 vendors offering many unusual plants, tools, and art to discover.
---
Problems, questions, or suggestions? Contact: webmaster@metromastergardeners.org